TalonPoint is Core Technology Corporation's law enforcement information sharing connector.  This software allows participating agencies to query each other's law enforcement data systems and have the results returned to a single client application. TalonPoint provides real-time, secure access across heterogeneous systems from a single client access point.
‍
From one query, you can access information from multiple systems. TalonPoint can be configured to access information from any participating agency, allowing for local and regional data sharing.  This ensures that you get an accurate and complete picture from queries run.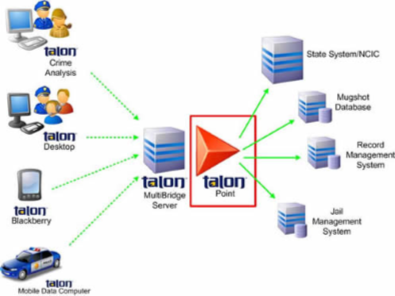 Detectives will be able to analyze data, maintain organized cases, and solve crimes faster.  Court officers will be able to track down offenders and field officers will be able to apprehend criminals easier.